---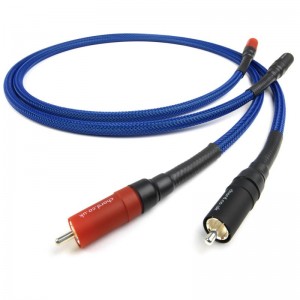 "Great definition and dynamics; rock music rocks like it should and jazz just grooves."
The Cadenza Reference brings a sense of life and joy to the music played on the system it is connected to. If the original Cadenza were a band, it would have been a super tight rock'n'roll band, bringing rhythms to life and making the most of dynamics and detail. The new Cadenza Reference though does all of this, and at the same time brings a level of refinement that renders even complex sounding instruments in a natural and believable manner.
The Cadenza Reference is perhaps the simplest way of understanding or hearing just how much influence the choice of RCA plugs can have on the quality of sound. The original Cadenza brought life and dynamics to any system it was connected to. The Cadenza Reference does all of that, except the new silver-plated Chord VEE 3 RCA plug lifts performance in every area and brings a new level of refinement and coherence.
This could be the perfect cable with which to revitalise an older system, or an ideal partner for the latest generation of technologically advanced USB equipped CD players and DACs. We use this a lot with the Audiolab 8200 CD player.
Listen to the Cadenza Reference with: Pearl Jam's "Jeremy" from the album "Ten".
Hear: The layers of guitar at the end of the song.
Listen for: The twelve string bass at the start of the song.
The Cable
The Chord Cadenza Reference is a pseudo-balanced cable design using twin silver-plated oxygen free copper signal and return conductors. The conductors are insulated with PTFE (Teflon) insulation. Unusually for an interconnect design, the Cadenza uses heavy gauge multi-strand conductors and these are responsible for the way that Cadenza can bring music so vividly to life. The conductors are arranged in a twisted pair configuration and are carried within a PVC over-jacket to provide mechanical damping. It also spaces the conductors correctly in relation to the dual layer high frequency effective shielding, comprising of a high density braid and heavy gauge foil wrap. The shield is then surrounded by a soft PVC outer jacket to further reduce mechanical noise.
The Plugs
The Cadenza Reference is fitted with Chord's custom VEE 3 RCA plugs. The new design of the ABS outer shell and the unique silver-plating process applied to the contact areas improves signal transfer across a wide frequency range. The signal return surround provides a secure high pressure contact with all types of RCA sockets. The centre pin is insulated with PTFE and the design of the plug and ABS outer shell provides good strain relief without compressing the cable and compromising performance.
Use it with
The Cadenza Reference is a high performance interconnect that will improve detail and dynamics and is particularly impressive at bringing a sense of life and dynamic exuberance to systems and music. This can be used in any system but a lot of mid price hi-fi components will really benefit from the Cadenza Reference.